Reading Time:
2
minutes
The cryptocurrency market fell to start the week as traders turned their focus to new inflation data and digested the latest in the SEC's legal battle with Ripple.
Bitcoin fell more than 2.8% to trade at $25,004.45, according to Coin Metrics. Ether, whose moves follow those of bitcoin as a "blue chip" crypto asset rather than another altcoin, was last trading lower by about 4% at $1,540.10.
Bitcoin briefly dipped below $25,000, the first time below that key support level since June.
Altcoins led crypto market declines to start the day, after the Securities and Exchange Commission late Friday argued the need to appeal July's landmark court ruling in its case against Ripple. XRP dropped 5%, according to Coin Metrics, along with the Polygon token. Polkadot's coin lost 4%, while Binance Coin, Solana's sol token and litecoin were down by about 3% each.
"It feels like fatigue, and with general pullback in liquidity from market makers any move lower tends to be more volatile," said Darius Tabatabai, co-founder of Vertex Protocol. "That said, the environment is challenging with volumes still low overall and users not returning to crypto in droves as of yet."
Stock chart icon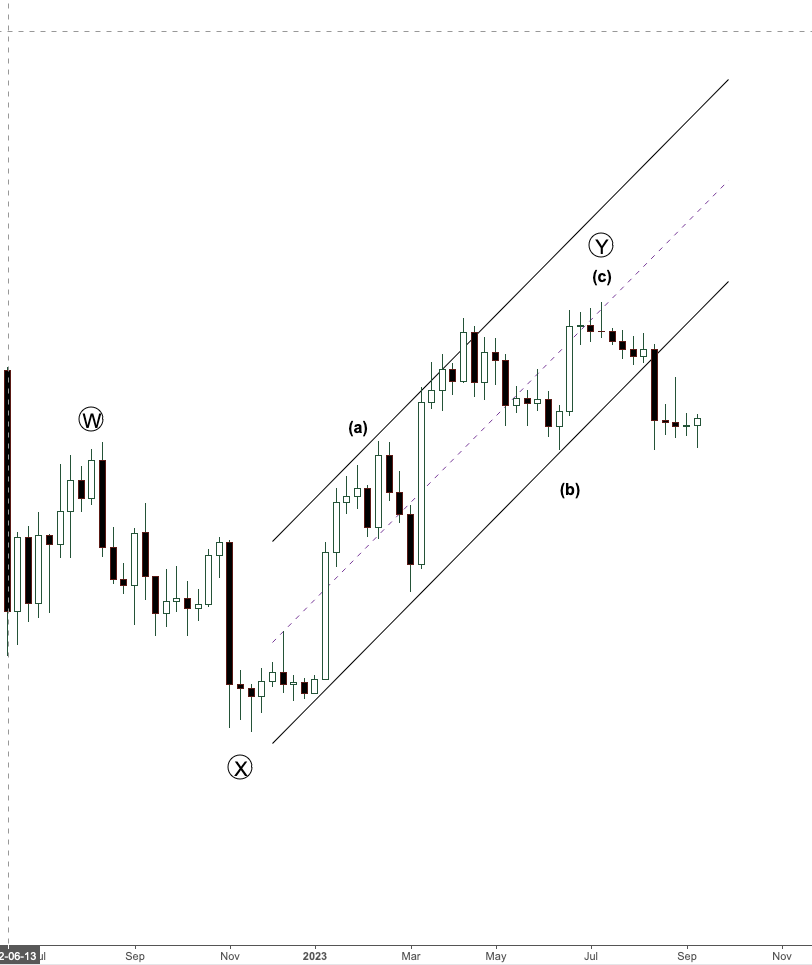 Bitcoin formed an Expanded Flat Pattern
Bitcoin remains stuck in a tight range. It has spent most of the year between $25,000 and $30,000 and because it continues to suffer from a dearth of liquidity and volume in the market, rallies back to the higher end of that range have been weak and failed to hold. Movements both higher and lower without clear catalysts also tend to be exacerbated as a result of the weak volume. In August, trading volume fell to its lowest in more than four years.
Investors are looking forward to key inflation data in this week after a string of stronger-than-expected economic data points last week had renewed worries that the Federal Reserve could raise rates more than previously expected. The latest consumer price index and producer price index readings will drop Wednesday and Thursday, respectively. Investors are hoping for low readings, although both are expected to jump due to energy cost pressures.
Although inflation could be a positive catalyst for bitcoin in theory, it could also steer certain investors who fear a recession away from risky assets.